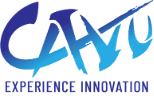 We were thrilled to host a workshop that has engaged participants at IAAPA Expos and informed private client design planning. Facilitated by Mark Stepanian, President and Chief Experience Officer of CAVU Designwerks and one of Blooloop's 2022 "50 Theme Park Influencers", the workshop is the first such professional development experience in Canada for young professionals. CAVU Designwerks is a Canadian designer, manufacturer, and supplier of innovative experience-based rides and attractions found in theme parks worldwide.
Post-secondary students interested in themed entertainment and attractions attended this fantastic workshop at TMU on Saturday 2023 February 11. 
This professional-grade workshop covered the many facets of the process of designing for this exciting and complex industry and help them to identify their own potential role or path to their ideal career. The themed attractions industry has a place for almost every academic discipline, including the arts (set design, landscape architecture, interior design, and architecture, media, and gaming), technologies (engineering and sciences), and business and management.
As the name suggests, the Blue Sky Workshop starts at the "blue sky", to define the attraction's creative intent, and through the workshop experience, it examines not only the technologies to deliver the project's creative goals, including media presentation type and ride systems, but also essential business considerations such as attraction footprint, budget, guest capacity, and project schedule. 
The event was sponsored by The Creative School at Toronto Metropolitan University, with the assistance of the TMU Thrill Club.